Peter Mosselberger (aka Captain Peter) - Profile
---
Born in Sicily in 1959, Peter Mosselberger started of maritime career aged 18, on cargo freighters from Europe to Africa and the Arabian Gulf. He attended Nautical Academies in Italy and Germany. Since the early 1990s he is sailing as captain throughout the world.
Peter started photographing at an early age, he got his first camera when he was 10 - a Kodak Instamatic. Soon he moved on to a reflex camera, and by the age of 13 he was using an East German "Praktika", and started to develop black-and-white pictures by himself. Currently he has almost abandoned his "Canon FTb" and converted to digital photography, using a FUJI-Digicam.
Hobbies: Collecting rare obsolete banknotes from around the globe, geography; visiting confluence points all over the world, i.e. points where integral latitudes and longitudes do intersect, and writing narratives about the experiences there. Peter loves all Latin American countries and Russia.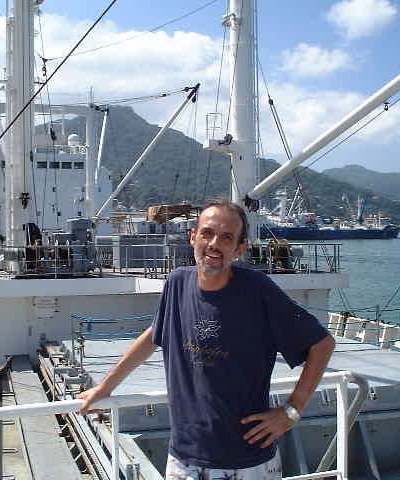 Peter Mosselberger on board the Nova Scotia in Victoria, Mahé Island, Seychelles

Images by Peter Mosselberger
at Travel-Images.com: