Francisca Rigaud - Professional Profile
---
Francisca Rigaud was born in Oporto and currently lives in Lisbon. From a tender age she attended Braga's Conservatory where she received an art based education. By the age of 18 she started to develop an interest for photography, while living in London. In 1980 she moved to the Netherlands where she attended several photography courses. While in the Netherlands she was awarded 14 times in photography competitions receiving very positive reviews from several newspapers. Her work was shown in several collective exhibitions, such as the Dutch Naval Museum, the Hishwa International Nautical Fair and the Photography Fair, all in Amsterdam. Having retuned to Portugal her work developed with the help of a transnational EU project for female entrepreneurs.
She took part in the VI Vila Franca de Xira biennial exhibition (1999) and was awarded distinctions at the IV Moita biennial exhibition (1999) and the "Olhar Cascais" contest. She was selected to show her work in Knokke-Heist (Belgium), during the 22nd Internationaal Fotofestival (1999). She was awarded the 1st prize at the 11th Vila Real National Photography Contest. She worked with the Portuguese Mail to create a series of postcards about the Azores, one about Oporto and one of Christmas cards. In march 2002 the new Madeira postcards for the Portuguese Mail which she authored were introduced during an exhibition in Funchal under the title "Madeira: um olhar!". From May till December 2002 she had a permanent exhibition at the Communications museum in Lisbon, under the title "Mundos". This exhibition, also recently on display in S. Luís do Maranhão (Brazil) aims at showing the world's diversity as the factor that grants its magic. This diversity should never be seen in a negative way, deep within we are all human, looking for happiness and a better life!
During 2001, apart from travelling and numerous articles published, she worked on a book about Madeira by Lucidus Publicações and received a grant from Centro Português de Fotografia for a voyage from Alaska to California. Currently she is working on a photography album about the voyages made during 2001 to be published by Edições D. Quixote.
Francisca's work is centred on travel photography, both in Portugal and abroad. During 1999 she visited Kenya with a grant from Centro Português de Fotografia to identify the Portuguese heritage in this country, Uganda, Ireland and Austria. In 2000 she visited the Azores, Finland (three times: Helsinki, Lapland and the Lake district), Madeira (twice), Porto Santo, Estonia, Italy, Picos de Europa (Spain) and Austria. In 2001 she visited Scotland (twice), Spain (twice), Angola, Brazil, Austria, Finland, the Seychelles, Saudi Arabia, Morocco (twice), the USA (twice), the Caribbean (Haiti, Mexico, Jamaica and Grand Cayman), Madeira (twice) and Canada. In 2002 she visited Madeira, England, Mozambique, Finland and Morocco. In 2003 she has already been to Brazil, Tunisia, Egypt, India, Mozambique, Madeira, Porto Santo, Fundão and Malta.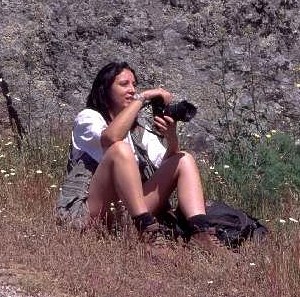 Francisca Rigaud in Fundão, Portugal

Images by Francisca Rigaud
at Travel-Images.com: