| | | |
| --- | --- | --- |
| Travel | | Images |

World Time Zones

main
This sub-page of Travel-Images.com is dedicated only to time zones, but you can see also images, and flags of the countries and territories featured.
Download the detailed map or check the data on the table below. To find out the time difference between yourself and some other country simply subtract one time from the other. Remember that seasonal daylight saving times may affect the result.
Each standard time zone boundary is 15 degrees east or west of the preceding one, 360º / 24 = 15º. The reference point for Coordinated Universal Time (UTC) is the Greenwich Meridian (the Prime Meridian), zero longitude. Local time is UTC plus the current time zone offset for the location in question. Iceland, unlike the UK, is always on UTC as the country does not use daylight savings time. Bear in mind that in a few regions, half-hour or quarter-hour differences are in effect.
click the map for a larger version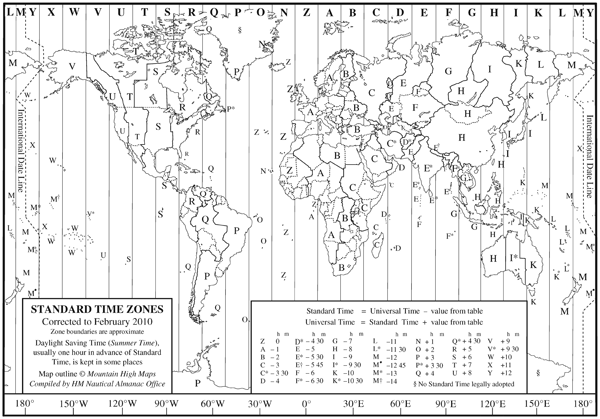 Standard Time Zones - map compiled by HM Nautical Almanac Office
Country / Territory
Hours difference from GMT
/ Universal Standard Time
Afghanistan
+4 1/2
Albania
+1
Algeria
+1
Andorra
+1
Angola
+1
Anguilla
-4
Antarctic Aus Territory
+4 1/2 +10
Antigua and Barbuda
-4
Antilles
-4
Argentina
-3
Armenia
+4
Aruba
-4
Ascension Island
0
Australia
+8 +10
Austria
+1
Azerbaijan
+1
Azores
-1
Bahamas
-5
Bahrain
+3
Bangladesh
+6
Barbados
-4
Belarus
+2
Belgium
+1
Belize
-6
Belize
+1
Bermuda
-4
Bhutan
+6
Bolivia
-4
Bosnia Herzegovina
+1
Botswana
+2
Brazil
-3
Brunei Darussalam
+8
Bulgaria
+2
Burkina Faso
0
Burundi
+2
Cambodia
+7
Cameroon
+1
Canada
-3 1/2 - 8
Cape Verde Islands
-1
Cayman Islands
-5
Central African Republic
+1
Chad
1
Chile
-4
China
+8
Christmas Island
+7
Cocos Island
+6 1/2
Columbia
-5
Comoros
+3
Congo
+1
Cook Islands
+10 1/2
Costa Rica
-6
Cote d'Ivoire
0
Croatia
+1
Cuba
-5
Cyprus
+2
Czech Republic
+1
Denmark
+1
Djibouti
+3
Dominica
-4
Dominican Republic
-4
Ecuador
-5
Egypt
+2
El Salvador
-6
Equatorial Guinea
+1
Eritrea
+3
Estonia
+2
Ethiopia
+3
Falkland Islands
-4
Faroe Islands
0
Fiji
+12
Finland
+2
France
+1
French Guiana
-3
French Polynesia
+10
Gabon
+1
Gambia
0
Georgia
+4
Germany
+1
Ghana
0
Gibraltar
+1
Greece
+2
Greenland
-3
Grenada
-4
Guadeloupe
-4
Guam
-10
Guatemala
-6
Guinea
0
Guinea - Bissau
0
Guyana
-3
Haiti
-5
Honduras
-6
Hong Kong
+8
Hungary
+1
Iceland
0
India
+5 1/2
Indonesia
+7 +8
Iran
+3 1/2
Iraq
+3
Ireland, Republic of
0
Israel
+2
Italy
+1
Ivory Coast see Cote d'Ivoire
0
Jamaica
-5
Japan
+9
Jordan
+2
Kazakhstan
+5 +6
Kenya
+3
Kirghizstan
+3
Kiribati
+12
Korea (North)
+9
Korea (South)
+9
Kuwait
+3
Laos
+7
Latvia
+2
Lebanon
+2
Lesotho
+2
Liberia
0
Libya
+1
Liechtenstein
+1
Lithuania
+2
Luxembourg
+1
Macao
+8
Macedonia
+1
Madagascar
+3
Malawi
+2
Malaysia
+8
Maldives
+5
Mali
0
Malta
+1
Marshall Islands
+12
Martinique
-4
Mauritania
0
Mauritius
+4
Mayotte
+3
Mexico
-6 - 8
Micronesia
+11
Moldova
+2
Monaco
+1
Mongolia
+8
Montserrat
-4
Morocco
0
Mozambique
+2
Myanmar (Burma)
+6 1/2
Namibia
+2
Nauru
-12
Nepal
+5 3/4
Netherlands (Holland)
+1
Netherlands Antilles
-4
New Caledonia
+11
Nicaragua
6
Niger
+1
Nigeria
+1
Norway
+1
Oman
+4
Pakistan
+5
Panama
-5
Papua New Guinea
+10
Paraguay
-4
Peru
-5
Philippines
+8
Pitcairn Island
-8 1/2
Poland
+1
Portugal
0
Puerto Rico
-4
Qatar
+3
Romania
+2
Russia
+2 1/2 +10
Rwanda
+2
St Helena
0
St Kitts and Nevis
-4
Samoa (USA)
-11
Samoa Western
-11
San Marino
+1
Saudi Arabia
+3
Senegal
0
Seychelles
+4
Sierra Leone
0
Singapore
+8
Slovakia
+1
Slovenia
+1
Solomon Islands
-11
Somalia
+3
South Africa
+2
Spain
+1
Sri Lanka
+5 1/2
Sudan
+2
Surinam
+3
Swaziland
+2
Sweden
+1
Switzerland
+1
Syria
+2
Taiwan
+8
Tajikistan
+5
Tanzania
+3
Thailand
+7
Togo
0
Tonga
-13
Trinidad & Tobago
-4
Tunisia
+1
Turkey
+2
Turkmenistan
+5
Turks & Caicos
-5
Tuvalu
-12
Uganda
+3
Ukraine
+2
United Arab Emirates
+4
United Kingdom
0
Uruguay
-3
USA
-5 -11
Uzbekistan
+5 +6
Vanuatu
-11
Venezuela
-4
Vietnam
+7
Virgin Islands (UK)
-4
Virgin Islands (US)
-4
Yemen
+3
Yugoslavia
+1
Zaire
+1
Zambia
+2
Zimbabwe
+2
| | |
| --- | --- |
| World Time Zones | www.travel-images.com |