| | |
| --- | --- |
| Travel Articles for Publishers | Travel-Images.com |
| | |
The travel article below is available for publishing, with or without photos (more images available). Please contact us with details about your publication for a detailed quote. Both this article and all the images are copyrighted. Other travel articles are also available for publishing.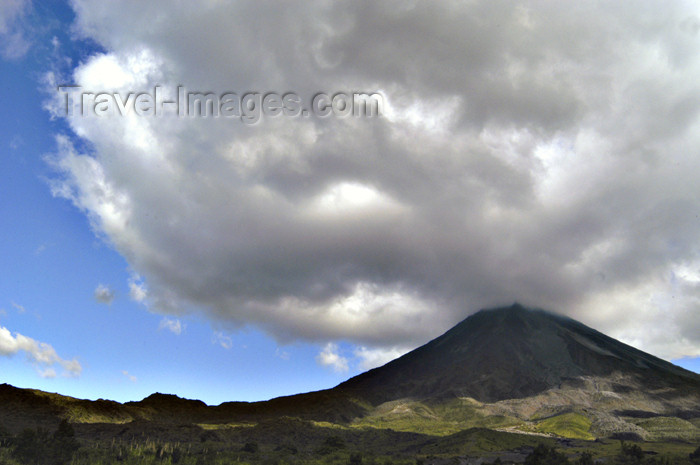 Sky Trekking in Costa Rica
by Bill Cain
Have you ever dreamt of breaking the bonds of earth and flying through the air, but were afraid to try sky diving or hang gliding? If so, then you might want to check out the latest sensation thatís creating a buzz in Costa Rica. Itís called sky trekking and itís a better and far less hair raising alternative to jumping from a plane or running off a cliff.
Costa Rica has long been known as a tourist-friendly destination for those seeking a taste of the exotic, but unwilling to sacrifice most of the creature comforts. A small country in Central America, it offers up a rich mix of activities ranging from wildlife pursuits to more action packed adventures.
In a mountainous region 110 miles northwest of the capital city San Jose is the Monteverde Reserve. Despite being remote and a hard place to get to, tens of thousands visit the area annually. Here misty peaks jut from the cloud forest where abundant flora and fauna can be found. Until recently, the only way of observing the cloud forest canopy was from the floor by means of well-established trails and footpaths. Now the magnificence of this special place can be experienced at bird level from above, thanks to an ingenious system of guy wires, which have been strung across the regionís valleys, chasms and ravines.


There are actually several such venues in the Monteverde area, but the one I opted for, Sky Trek, had been recommended as the safest, while incorporating the most zip lines Ė eleven.
At the base lodge the intrepid sky trekker is first outfitted with a hard hat and a special body harness designed to support oneís weight with just two thigh straps. The most difficult part of the sky trek is an actual trek from the lodge up to the first platform where an orientation session is held. The body harness is attached mid-section to a pulley by means of a removable carabiner Ė a piece of equipment known to mountaineers. The pulley, which is equipped with handgrips, rides along the wire cables and, just like on a roller coaster ride, holding on is optional but highly recommended for the uninitiated first timer.
At each of the launch platforms professional crewmembers ready trekkers by hooking them up and waiting for the line to be clear. Then youíre off Ė zipping along at speeds up to about 30 miles per hour. Twisting the pulley, thus creating friction and a slower descent, can actually control oneís acceleration. Each of the eleven lines is slightly different from the rest.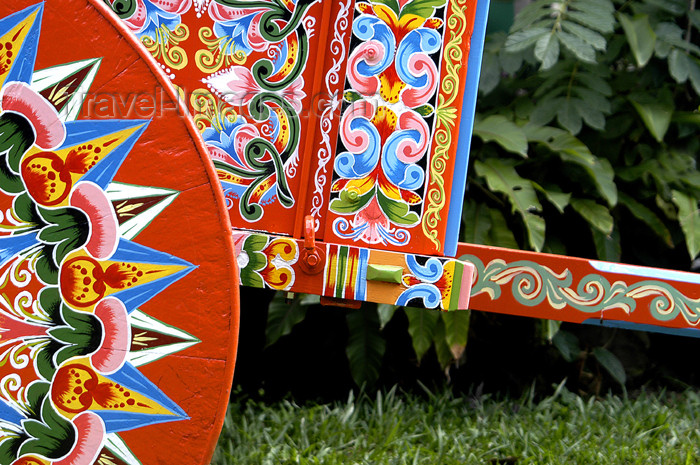 Some have you right out in the open, high above the tree tops, while others tunnel through the forest where the vegetation has been cut back just enough to allow a person to slip through. The highest line is an eye-opening 480 feet above the ground and starts from a 76-step tower atop a windy mountain peak with spectacular views. The longest is four tenths of a mile and takes almost a minute to complete. Wisps of spray could be felt on a couple of my runs and were a reminder that I was in a cloud forest even though the day had been sunny when I started at the lodge.
At the receiving platforms additional crew personnel are waiting to bring trekkers safely to a stop by means of a simple, yet effective braking system. In the rare, off chance that you donít quite make it all the way in before stopping, you must let go of the pulley, grab the wire cable and manually pull yourself to the platform Ė not something anyone with a case of acrophobia wants to happen.
Tickets are $40. for the 2 ½ hour circuit tour which finishes at the base lodge. Group size, at least in my case, is about 20 people, which allows approximately 15 minutes between zip runs. Cameras can be taken along, but should be on the small side and able to fit under a shirt or be stuffed in a backpack while zipping. For home videos, ask your guide, as I did, to take your camera and film a zip or two while heís in flight. Remember, heís done it before and doesnít feel the need to hold on like the rest of us.


For the less adventurous, the Sky Walk may be an option. Blending nature with just a tinge of adventure, itís a 1 ½ mile hike under the Sky Trek featuring a combination of six suspension bridges and platforms. Starting on the ground, it takes you through the forest and up to explore the tops of the trees.

All in all, the Sky Trek experience is a safe, exhilarating and fun activity for the entire family. On my particular group tour there were children as young as eight fearlessly zipping through the mist tandem style with a crewmember. For more information visit www.skytrek.com where additional photos and video clips can be viewed.



| | |
| --- | --- |
| Travel Articles | www.travel-images.com |