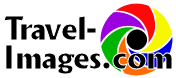 Travel-Images.com is an image bank service covering every corner of the world. The site encompasses over 300 countries and territories and new images are added every week to our stock photography archives.
We display the work of about 250 photographers with a total archive of over 1.000.000 images. Of these only 40.000 images are shown on the site, other images are available on request.
The content of our image library serves both conventional and online publishers in many sectors. Since 1994 we have been catering to clients small and large, from generalist magazines and newspapers to TV stations, but covering also educational books, travel guides, travel catalogues, travel magazines, corporate reports, conference brochures, stamps, travel sites, internet portals, museums, billboards, shop decoration...
All photographs are copyrighted and may not be used without prior licensing. Fees charged on behalf of the authors vary according to the purpose and size of the image. The images may not be resold, and copyright remains with the authors.
Once you've browsed our pages and decided which images interest you please visit our payments page. Please contact us for any special requests. All unlicensed use of the images is subject to prosecution according to European and international copyright legislation.
Travel-Images.com is a green site powered by renewable energy (100% wind energy). Reduce your carbon footprint using our services.
Please contact us at:
- e-mail: sales@travel-images.com

- Fax:
US +1 610 423 0745
UK +44 (0)700 5964 482
France +33 821 463 939

- Tel: (+351) 967 893 958

- postal address:

Travel-Images
165 Guerreiro Dias street,
Moita, P-2860-508,
Portugal
Some of our
photographers:
David Jackson
Alejandro Slobodianik
Robert Ziff
Petri Alanko
Aurora Baptista
Elnur Hasan
H.Huseinzade
Malgorzata Marciniak
Stefan Lindgren
Joanna Motylewska
Anna Slaczka
Joe Filshie
Leif Karlsson