| | |
| --- | --- |
| Travel Articles for Publishers | Travel-Images.com |
| | |
The travel article below is available for publishing, with or without photos (more images available). Please contact us with details about your publication for a detailed quote. Both this article and all the images are copyrighted. Other travel articles are also available for publishing.

South Africa: Tracking Cheetahs from the World's Best Hotel
by Bill Cain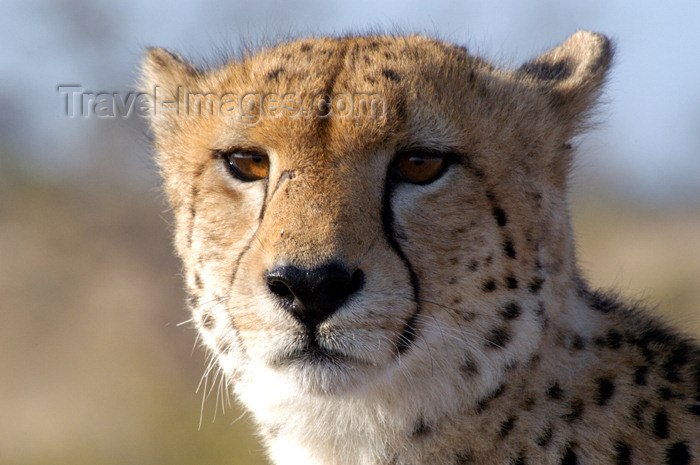 "From a distance there is a tear,
Receiving one, but stalking all.
The dark eye watches you from
Within the tall grasses.
As he lies with pride,
You will notice that the tear
Is a cry for survival."

- Cindy du Toit, Grade 9

"Shinga", Sylvester our game tracker kept saying, as we prepared to depart on the morning of our last game drive. He repeated the Shangaan word for cheetah over and over as if to remind everyone that the goal that morning was to locate one…. which it had been.

Our small contingent of six guests, Sylvester and a ranger had seen every species of wild beast that one could possibly hope to see on a South African game safari in the past three days, except the elusive cheetah. True, I had already gotten my cheetah fix earlier in my trip at the Cango Wildlife Ranch in Oudtshoorn where I had been able to actually interact with and pet two adult cheetahs; but seeing one in the wild would be different.


Singita Private Game Reserve, on the outskirts of Krueger National Park, is where my recent safari had been based. Its complex of four separate lodges collectively share the current distinction of being rated the world's best hotel for the year 2004 by not one, but two of the travel industry's most prestigious magazines. Travel & Leisure, whose annual World's Best Awards survey was based on over 425,000 reader evaluations last year, rated Singita at the top of three categories – world's best hotel, top small hotel and best hotel in Africa and the Middle East.. Similarly, on the other side of the Atlantic, Singita ended up on the top of Conde Naste Traveler's comprehensive Reader's Choice survey with a 99.3 rating of a possible 100 in their Best of the Best Hotels category.

In addition to these accolades, Singita also is one of only three hotels in all of Africa that enjoys the Purple Shield status bestowed by the prestigious, internationally renowned association of Relais & Chateau to only its top members. I can attest by my recent stay that all these coveted distinctions are indeed verifiably deserved and have served to spur bookings this year, especially from the US.

A guest can choose from one of three distinct lodges in the Sabi Sand Reserve on the western side of Krueger, or a newly opened fourth on the less developed eastern side. My 3-night abode of choice had been the sumptuous 9-suite Boulders Lodge, which has a more contemporary African feel, enhanced by the surrounding beauty of the bush. Thousands of indigenous flat stones, of which many of the interior walls, bath vanities and fireplaces are composed, have been tastefully incorporated into the architecture of both the main lodge and the guest suites. Expansive floor to ceiling glass and open post & beam construction is prevalent throughout. Each spacious suite has its own private, heated plunge pool, indoor and outdoor showers, fireplace, and wooded leisure deck. African art work and antiques are plentiful.

The all-inclusive tariff of $1,150. per person per day includes three epicurean meal delights, all wines & spirits, two open Land Rover game drives accompanied by knowledgeable trackers and all the other services and amenities one would expect in an establishment of this caliber.

Your two personal game trackers meet you at the private air strip upon arrival, are at your disposal throughout your stay and wave found farewell as your plane taxies for the sad, all too soon departure. If ever there was a complete indulgent experience, this is it down to the last detail.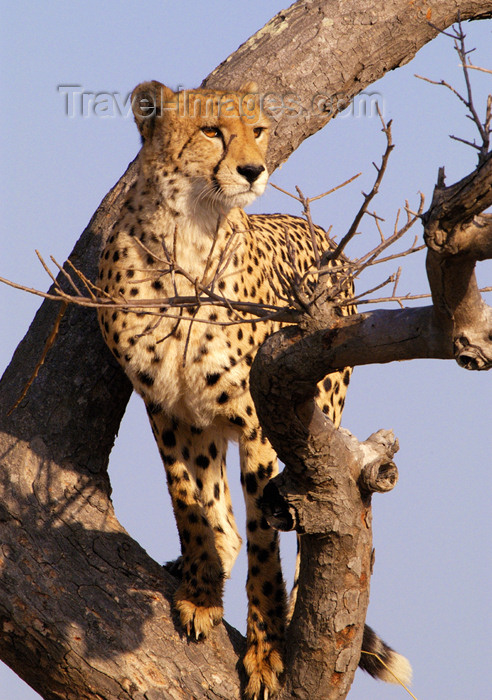 Not everyone who does a game safari in Africa is fortunate enough to see a cheetah in the wild, but this being our last day, we were determined. Our trackers had received radio reports the previous evening of a mother & cubs sighting, but logistics had prevented us from reaching the area, so we set out in that direction at 6:30 this morning. After about an hour and a half of futility, word arrived by radio that a lone male had been spotted nearby. Within 15 minutes we had pulled up next to it in a rocky field.
The animals within the Singita Private Game Reserve, as well as the neighboring reserves, have become so conditioned by the Land Rovers that really close encounters are the norm, even for a cheetah which could easily distance itself from human contact in a split second if it wanted.
With acceleration bursts up to 70 mph, cheetahs are the world's fastest land animals, but this characteristic belies their inability to adequately sustain themselves, their estimated population throughout Africa thought to be only around 300 – 400 individuals - paltry in comparison to the 4,000 estimated number of leopards, the cheetah's close cousin. Reasons for their decline have to do with the usual problems of human poaching and habitat encroachment faced by other species, but the cheetah's problems are a little more complicated. While most of Africa's predators will scavenge the kills of their competitors when their own luck runs short, cheetah's will only eat their own prey and in turn are routinely robbed by lions, hyenas and other species that will gladly steal a free meal whenever they can, especially from a smaller-statured animal like the cheetah. So although it has no problem catching up to its food, its inability to keep it has contributed to its declining numbers.
The one we found on this particular morning seemed healthy and fit, as well as in an accommodating mood for our group of amazed gawkers. For almost an hour, while it climbed a tree (something we were told cheetah's seldom do) and posed on a dead log, we followed it along, camera shutters clicking furiously away.
We left the African bush later that day with the reassuring feeling that, at least for the time being, cheetahs will continue to roam the African plain and that a fortunate few number of people will still be able to enjoying seeing them in their natural environment on game drives from the comforts of lodges like those of Singita.


| | |
| --- | --- |
| Travel Articles | www.travel-images.com |