| | |
| --- | --- |
| Travel Articles for Publishers | Travel-Images.com |
| | |
The travel article below is available for publishing, with or without photos (more images available). Please contact us with details about your publication for a detailed quote. Both this article and all the images are copyrighted. Other travel articles are also available for publishing.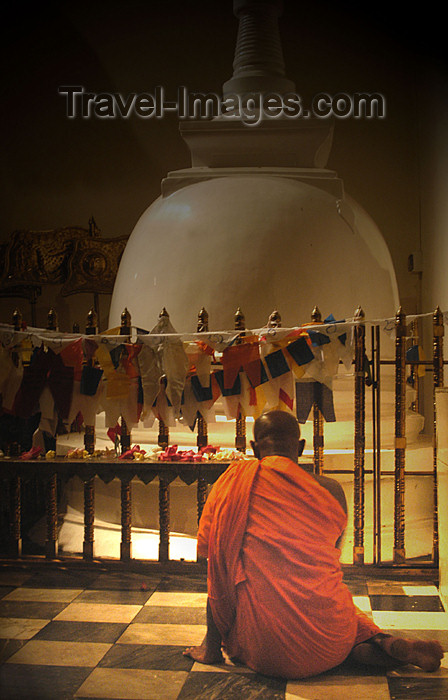 Sri Lanka - Kandy
by Bill Cain
As the story goes, when the Buddha died and was cremated over 2,000 years ago in what is now India, a follower snatched one of his teeth from the ashes of the funeral pyre. Over the centuries, the tooth was shuffled around from person to person and place to place before finally ending up in the city of Kandy, Sri Lanka where it continues to be venerated by the Buddhist faithful to this day.
Known as Ceylon during British imperialist rule until 1948, Sri Lanka is the teardrop shaped island about the size of the state of Maine off the southern tip of India, and Kandy, situated smack dab in the middle of the country, is its second largest city after Colombo the capital .
The name Kandy, just like Ceylon, was given by the British and is mercifully short and easy to remember unlike many of the smaller Sri Lankan villages, which still retain their original names of the Sinhalese ethnic majority. Try asking directions for Timirigahamankada.
Despite what its English name might connote, everything in Kandy is not saccharine coated. In fact, to the uninitiated westerner, it might tend to leave an unpleasant after-taste. Like most hot and stuffy cities in the Indian sub-continent, it's congested with too many people vying for too few resources. Sanitation standards are lax. Emission controls for vehicles are non existent and the air is continually infused with a noxious witch's brew of exhaust fumes and smoke from the ubiquitous cocoanut brush fires that burn in every community.
Motoring around town on your own, therefore, is unhealthy. It's also not recommended for anyone but locals or those who think nothing of throwing all caution to the wind. On narrow, poorly maintained roadways, vehicles routinely cut each other off and take ridiculous risks passing at blind curves, while busy intersections are nothing less than chaotic free-for-alls. In the absence of any spay and neutering clinics, large numbers of free roaming dogs have been allowed to breed indiscriminately and, along with the occasional herd of cattle, pose an additional driving hazard. To make matters worse, small 3-wheeled motorized rickshaws, or tuk-tuks, constantly flit in and out of traffic, adding to the road misery.
Grim reminders of third world reality are around each bend, but once culture shock wears off, the exoticness of Kandy and its environs is alluring and hard to resist.

The focal point in the center of town and around which all local life revolves is the Temple of the Tooth where the holy relic resides. Because of a terrorist incident in 1998, security is high and people are randomly frisked before entering. Inside the incense fragranced stone edifice, bald monks in saffron robes lead the faithful three times a day in a tooth adoration ritual. Shrill flute "music" attacks the auditory canal and is accompanied by a group of equally annoying drummers who bang both sides of shoulder-slung tom toms. This ear-splitting cacophony is nearly continuous for the hour or so processional by those paying homage to the Tooth.
Requiring assistance, old women bent over from years of penitence stoically join the barefoot throng and make the climb upstairs to where the bicuspid beckons. Some bear offerings of scented flowers, coconut leaves and fruit. One by one, each person is given time for a 2-3 second glimpse. Of course the actual tooth is never seen. It's supposedly safe inside a series of concentric containers and what you're allowed to look at through a window some twenty-five feet away is the brightly lit "karandua" or outer casket. Whether or not the tooth is actually inside doesn't matter. What's important is that everyone believes it's there and will dutifully drop a small number of what few rupees they have into strategically placed coin slots. After the viewing, the caravan snakes its way through several other ornate alcoves and musty ante chambers where as much time as desired can be spent in front of the eye dazzling Buddhist alters therein.
Throw in a liberal mix of camera clicking tourists vainly trying to capture it all (yes, with the exception of the tooth casket, photos and even flash is permitted, but any footwear is strictly forbidden), and the weird, almost surreal scene is complete.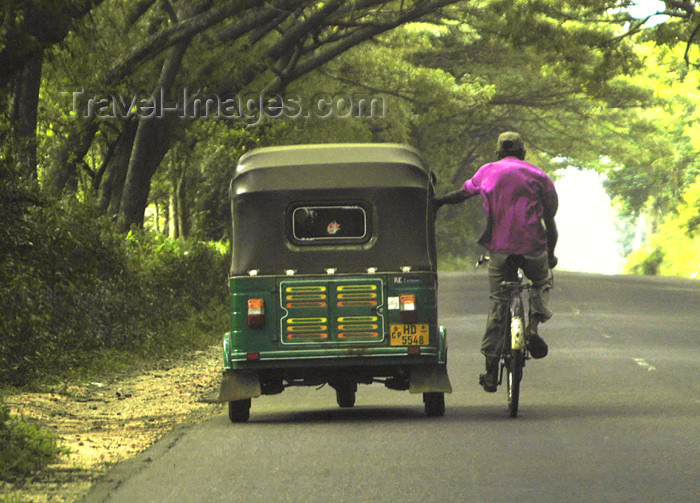 I contemplated the experience later that night over dinner while I watched the bats come out. Like a scene from "The Wizard of Oz", each night at dusk swarms of thousands of enormous flying foxes take wing over the city, silhouetted against the darkening azure sky.
While the tooth relic can be an unnerving spectacle, there's a different sort of spectacle on a hill just outside of town. Even though there are some fine first class hotels which rival those in any American city, there's only one place to stay which compliments Kandy's campiness.
"Outrageous, outlandish; gaudy and garish", is the way I signed the guest book at Helga's Folly – a 1930's-ish art deco chateau-turned-hotel where, as someone put it, "Alice in Wonderland meets the Marquis de Sade." Run by an eccentric named Helga Blow and her Dalmation Scarlet, the establishment's décor is an eclectic, quirky and jumbled collection of genuine antiques and whimsical kitsch.
Looking like they were lifted from Count Dracula's castle, several huge candelabras whose wax drippings have been allowed to accumulate for years grace the main sitting room. Checkerboard patterns compete with stylishly hand painted wall murals. Carved Buddhas and other eastern religion icons butt up against contemporary western bric-a-brac. Color and decorating schemes? Forget it. "Busy" "Bright" and "Loud" are the bywords. Large spherical Christmas ornaments hang randomly from the multi-patterned ceilings, except in one sitting room where they've been replaced with tacky plastic spiral squiggles. Chintz and glitz are rife, everything is totally pretentious and nothing works – but then that's the point. It's not supposed to. Even the corridors and guest rooms (about 30) have their own unique touches and one signature tradition with which Helga won't compromise is the sprinkling of real rose petals on each mosquito netted, 4-poster bed as they are turned down at night.
Above it all, a sound system pipes in nostalgic 1930's big band and show tune music into the hotel's lounge and other common areas. Who needs 5-star comfort and service when there's an exhibit like this in the area? It just might be my all time favorite rest house.

Due to its central location, Kandy can be used as a hub for excursions to other areas of interest in Sri Lanka. Just to the west is the Pinnawela elephant orphanage, where visitors can mingle with about 70 baby and adolescent elephants. To the north are the archaeological ruins of Polonnaruwa; the ancient rock fortress of Sigiriya, which can be climbed; and the Dambulla caves containing Buddhist carvings and other antiquated art work. The mountainous highlands are south where working tea plantations from the British period still produce the world's second largest crop.
Sri Lanka has long been known for its precious and semi-precious gemstones and even though the rubies, sapphires, topaz, etc. are mined in another part of the country, the best of the lot end up in Colombo and Kandy where they're sold by the most reputable dealers at swanky jewelry shops.
A visit to Kandy town is not for the squeamish or the faint of heart, but for those not offended by an all out assault on their senses – including the sense of propriety, bitter sweet Kandy might be worth a try.

| | |
| --- | --- |
| Travel Articles | www.travel-images.com |