| | |
| --- | --- |
| Travel Articles for Publishers | Travel-Images.com |
| | |
The travel article below is available for publishing, with or without photos (more images available). Please contact us with details about your publication for a detailed quote. Both this article and all the images are copyrighted. Other travel articles are also available for publishing.

Western Australia - Surf's Up at Wave Rock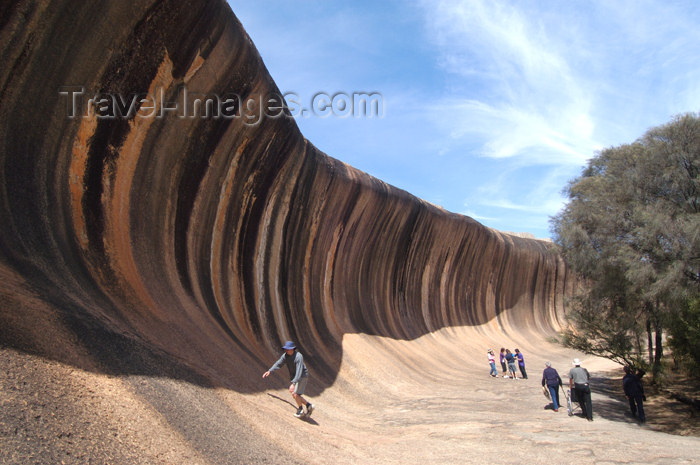 by Bill Cain

Deep in the dusty outback of Western Australia, far from any ocean, a giant wave is cresting and appears about to crash on the desert floor. Frozen in time for the past 2,700 million years, this wave isn't liquid, but a solid granite anomaly that attracts curiosity seekers from all over the world.
In 1963 a photograph of Wave Rock, taken in the small town of Hyden, won a competition at the New York World's Fair. It was subsequently featured in an issue of National Geographic Magazine, whereupon it began to achieve international interest. Today it's a recognized icon and has become one of Western Australia's signature images.
Prior to this unusual stroke of luck to Hyden's struggling economy, the rock had languished in relative obscurity, in large part because of its remoteness. The only inkling some people had was of that derived from a Ripley's Believe It or Not cartoon, which depicted it as something bizarre and incredulous.
Little is known about historic human activity surrounding the rock, but based on stones and other relics found in ancient camp sites in the area, Aborigines are known to have inhabited the area prior to European discovery. The first white men in the region appeared toward the end of the 1800's and were lured by the search for the fragrant sandalwood, which was eagerly sought at the time by oriental markets. Through the first half of the 20th century the Hyden area was settled by wheat farmers, but little attention was paid to Hyden Rock, as it was first referred to, and no one foresaw the huge tourist potential it would eventually draw after 1963.


The rock itself is actually a small part of an enormous pre-Cambrian granite massif, the north face of which slowly eroded into what is now a 43-foot high, 340-foot long natural phenomenon. Rain washing action of chemical deposits have given the rock its distinctive vertical streaks of grays, rusty reds and lighter sandy shades of color, which change hues as the sun tracks from morning to afternoon.
In the 1950's, just before the aesthetics of the rock were fully appreciated, a knee-high concrete wall was constructed along the rock's top edge as a means of diverting the precious rain water off to one side where a small reservoir and dam were also built to serve the residents of Hyden. Considering the current notoriety of the rock, it's doubtful whether this water conservation project, which many artists, photographers and other purists consider an obtrusive eye sore, would ever have begun had the undertaking been proposed after 1963.
Happily, however, the wall remains hidden from many of the viewing vantage points around the rock's base. A popular "photo op", which I witnessed repeatedly, has become one where tourists climb as high up the rock as they can, turn, bend their knees and extend their arms. Yup, they want to show the folks back home that they surfed Wave Rock.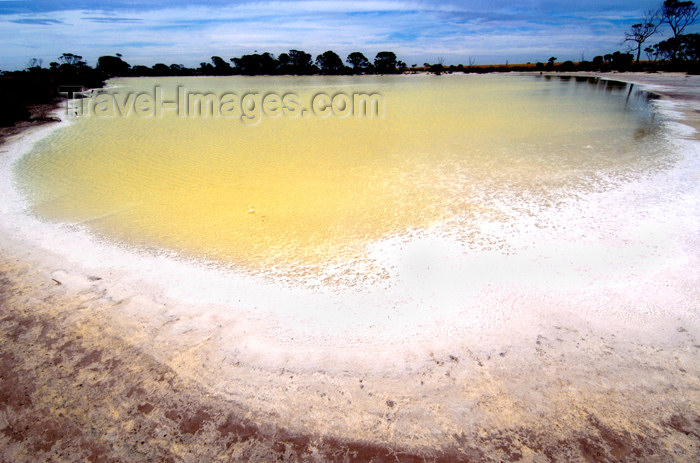 Because of Wave Rock's remote location and virtual lack of close proximity to any other areas of tourist interest in Western Australia, one must feel a strong compulsion for the pilgrimage. For those that do, there are a number of other minor attractions in the area. A short walk from the rock is Hippo's Yawn, another rock formation so named because of its resemblance to a cavernous mouth into which one can walk. Aborigines still consider this a sacred site and until relatively recently used it as a place to deliver child births. A short distance away is Mulka's Cave, which has a strange aboriginal legend attached to it, and there's also an unusual outcrop of granite called The Humps. Across the road from Wave Rock a wildlife park has sprouted housing kangaroos, other indigenous wildlife species, a wildflower display and a lace display. Hyden now boasts a comfortable motel and even a small airstrip for those on a tight schedule, but who nonetheless have come to Western Australia and want to do "the rock".



| | |
| --- | --- |
| Travel Articles | www.travel-images.com |